Ipoh Tourism Board Official Website

Seach About The Ipoh Now !!!!
---

Copyright 2013 www.ipoh-city.com All Rights Reserved.
webmaster@ipoh-city.com

Designed by JJ NETWORK
Usage website states your compliance of our Terms & Conditions and Privacy Policy.
For best view use 1024 x 768 resolution; MSIE v.8 or Firefox 3.5+


Ipoh City, is famousli known as food paradise destination in Malaysia and Singapore. The city offers a wide variety of its own exquisite food including ipoh bean sprouts chicken, ipoh sar hor fun, ipoh salted chicken or yim kok kai, ipoh old white coffee, ipoh chow hor fun, ipoh hainanese chicken rice and rendang tok. Moveover, other unique and authentic cooking style and flavours of the Malay, Chinese and Indian cuisines are also available to tempt one's appetite. The numerous restaurants, coffee shops, food courts, hawkers centre, and fast food chain outlets, which cater to different budget and tastes, ensures that visitors have plenty of choices to choose from. Ipoh also offers various international cuisine including Japanese, Korean, Wastern, Middle East and Thai at specific restaurants. Ipoh surely has abundance of good food available and waited to be explored.
Ipoh City Food Guide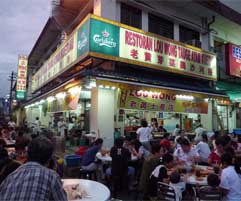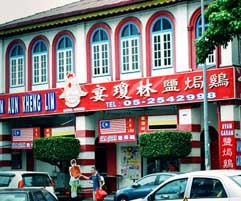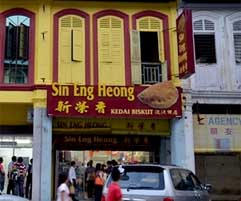 A visit to Ipoh won't be complete without eating the famous Ipoh Chicken Rice and Hor Fun.


49 Jalan Yau Tet Shin, 30000 Ipoh, Perak

Tel: +605-254 4199
Restaurant Lou Wong Tauge Ayam
Kuetiau
Aun Kheng Lim Salted Chicken. It was Ipoh's famous salted chicken. Recommended by 8TV Ho Chak.


24, Jalan Theatre, Ipoh, 30300, Ipoh, Perak

Tel: +605-254 2998
The most famous Ipoh Kaya Puffs are found here. Seriously very good, the puffs are soft to melt in your mouth.

64 Jalan Mustapha Al-bakri, Taman Jubilee, 30300 Ipoh, Perak

Tel: +605-243 9659
Big Tree Foot Roadside Hawker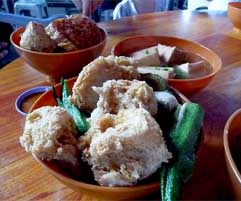 Visit to Nam Heong kopitiam is a must
for coffee-lovers, especially with its
claimed Old Town white coffee status.
2, Jalan Bandar Timah, 30000
Ipoh, Perak.
Tel: +6016-5538119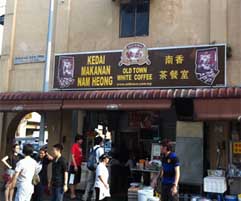 Ipoh Pasir Pinji 5 Chee Cheong Fun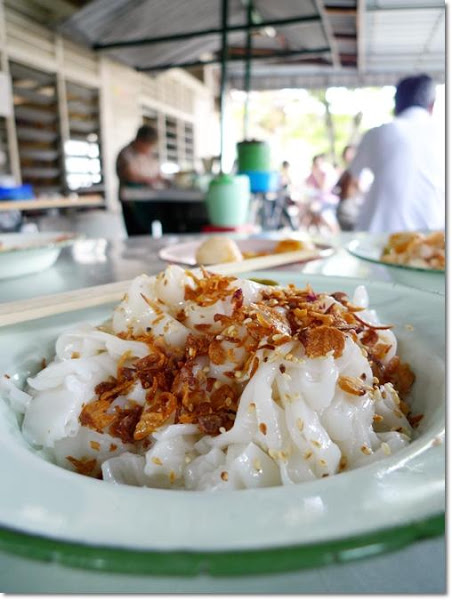 Aun Kheng Lim
---
---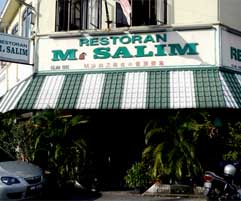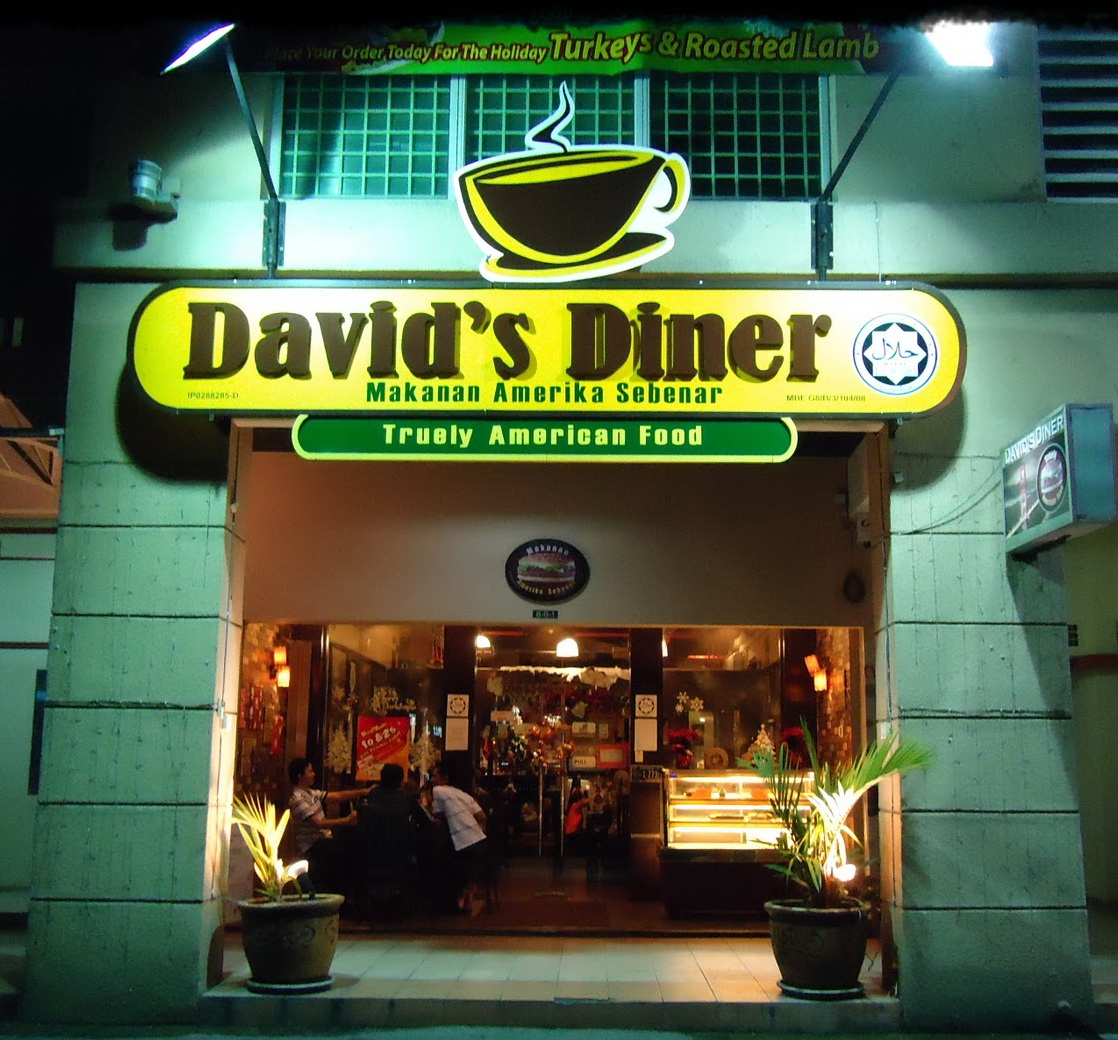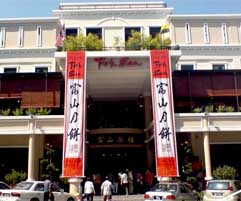 ---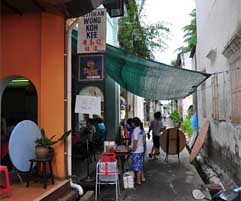 It's a very very old restaurant that serve
very good chinese food. They only open
No 3, Lorong Panglima,

30000 Ipoh, Perak, Malaysia
Tel:
+605-241 9474, +6016-531 3826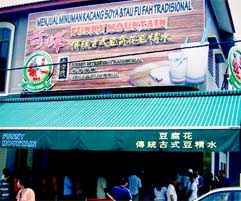 This is probably one of the most famous
tau fu fah (soybean pudding) stalls in
Malaysia. The soybean curd was silky
49, Jalan Theatre, Ipoh 30300,
Perak, Malaysia.
Tel:
+6016-595 0369, +605-546 9968
Ming Court Hong Kong Dim Sum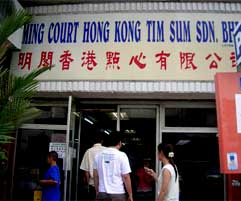 Ipoh famous dim sum restaurant, Ming Court has been serving delicious Chinese delicacies. Recommended by Astro Axian (Taste With Jason).

36 Jalan Leong Sin Nam, 30300 Ipoh

Tel:+605-255 7134

This is Ipoh's famous Big Tree Foot or
Dai Syu Keok in Cantonese because it's
under large trees. It's famous for the yong
652, Jalan King, Pasir Pinji,
31650 Ipoh, Perak.
Very famous Pasir Pinji Chee Cheong Fun, it was served with sweet sauce, green cillies, cilli sause, sesame and fried green onions.

Chee Cheong Fun is located on Jalan Pasir Pinji 5 in Ipoh Perak.
Restoran M. Salim has been serving
their famous brand of Nasi Kandar and
Nasi Briyani in Ipoh
about a quarter of a
75 Jalan Tokong, Taman Hoover,
31650 Perak, Malaysia
Tel: +605 255 5786
Foh San Restaurant is the most popular
Dim Sum maker in Ipoh. Foh San can
never be the place for breakfast.
Db12 Jalan Dato Tahwil Azhar,
30300 Ipoh.
Tel: +605-526 4481
A place to be special Western Cuisine, the food to be marvelous, and the service to be impeccable
.


B-G-1, Jalan Dato Seri Ahmad Said, Greentown Square, 30450, Ipoh, Perak.

Tel: +605-242 5733
---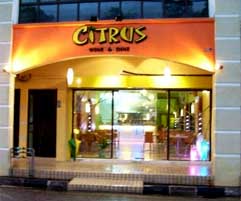 Citrus Wine & Dine @ Laluan Ipoh Perdana

Pioneer restaurant serving European fine dining cuisine in Ipoh. in both the quality of their food, good service, and dining ambience.
No 38-46, Laluan Ipoh Perdana,
31400 Ipoh, Perak, Malaysia.
Tel: +605-5451010
Thean Chun @ Jalan Bandar Bijih Timah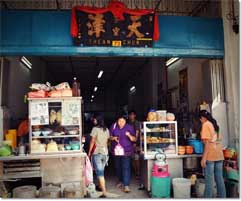 Pusing Public Seafood Restaurant:Jalan Verasamy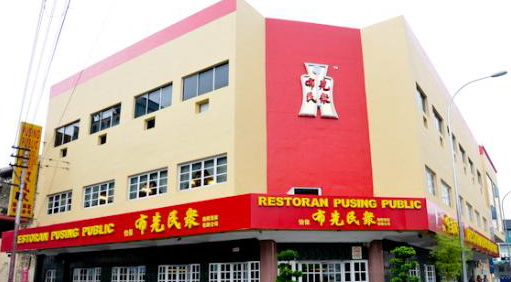 Top class Chinese food, great service. One of Ipoh an old icon in the food scene. Delicious Cantonese food in town.
Jalan Laxamana, Kampung Jawa, Ipoh, Perak

Tel: +605-241 9348, 05 2410 306,
05 2533 428

The legacy of coffeeshops, this place is even famous for its pork satay, popiah, lobak and rojak!

73, Jalan Bandar Timah
Ipoh Old Town,
30000 Ipoh
Tel: +605-2553076
---
Koh Samui Restaurant @ Jalan Raja Ekram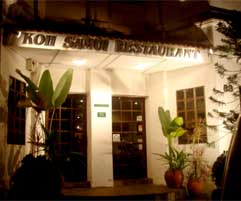 They offer an array of highly flavoursome and authentic Thai cuisine and the Halal Thai food.
83 Jalan Raja Ekram, 30450 Ipoh

Tel: +605-255 6608
Indulgence Restaurant and Jazz Room @ Jalan Raja Di Hilir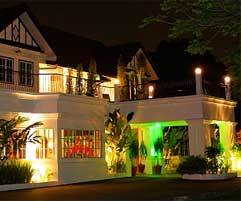 Good Western cuisine, pastry and even lodging at this award-winning chef's bungalow turned restaurant and rest house! Wonderful atmosphere for dining and relaxation
.

14 Jalan Raja Di Hilir
30350 Ipoh, Perak

Tel: +05-2557051
Pakeeza Restaurant @ Ipoh

House of Pakeeza is favorite place for good indian food. This is called the Palak Paneer and it is one of the best served in town.

15-17 Jalan Dato Seri Ahmad Said, Kampung Jawa, 30450 Ipoh, Perak, Malaysia

Tel: +05-241 4243, +605-253 0407