Ipoh Tourism Board Official Website
Seach About The Ipoh Now !!!!
---

Copyright 2013 www.ipoh-city.com All Rights Reserved.
webmaster@ipoh-city.com

Designed by JJ NETWORK
Usage website states your compliance of our Terms & Conditions and Privacy Policy.
For best view use 1024 x 768 resolution; MSIE v.8 or Firefox 3.5+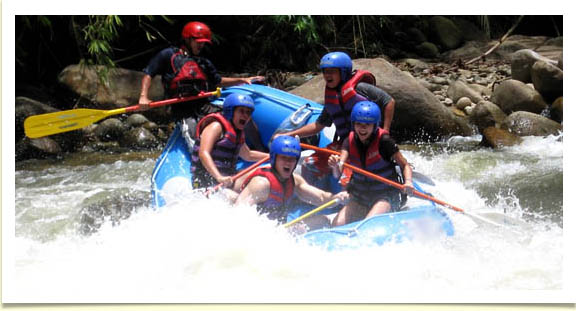 White Water Rafting
White Water Rafting at Kampar River in Gopeng is a very popular rafting in Peninsula Malaysia. Whitewater rafting on Sungai Kampar, only 15 minutes from Ipoh in Perak. The clear water of Kampar River (Class I-III) is suitable for anyone who is physically fit and those who crave for mild technical adventure whilst safely enjoy a rafting trip. From the excitement of tackling large rapids, to enjoying the serene beauty of a gentle paddle through lush rainforest, this will be an invigorating day spent at one with nature.

Nomad Adventure's rafting trips are distinctive because our full-length trip does not take out at the halfway point! This allows you to experience the most scenic part of the river. All our trips also include a complimentary session of "Introduction to River Safety" so you are fully engaged and will learn something about the sport. Rafts are usually propelled with ordinary paddles and typically hold 4 to 12 persons.

Participants are advised to wear shorts, t-shirt, swimwear, sandals with strap or rubber shoes, and goggles. Participants are advised to also bring a change of clothes, towel, insect repellent and sunblock lotion. Individuals with chronic health issues and pregnant women should avoid this activity.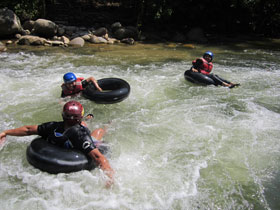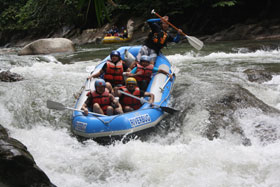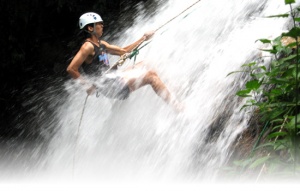 Itinerary:

Before 0930 hours
Arrive starting point ( MY GOPENG RESORT ) Safety Briefing at ADVENTURE HALL. Pre-rafting formality, gearing up and practice.

1000 hours
Rafting commences. Covering the distance of 12 km with 9 big rapids along the Sungai Kampar ( Grade 1-3 ). Rafting journey takes around 1 ½ - 2 hours.
Body Rafting and river challenge or surfing should not to be missed!

1230 hours
Upon arrival at the ending point, Kg. Jahang. Transfer back to MY GOPENG RESORT. Have a clean washing up in the resort bathing room and have the Chef's
lunch by the canteen.

Notes
Afternoon departure scheduled at 1400hs. Water level determines the duration of the rafting journey,
(Low = 2 1/2 hrs to 3 hrs, medium = 1 1/2 hrs to 2 hrs, High = 1 1/2 hrs)

Tour Includes

Transfers within activity area
River guide
Necessary equipment
Entrance fee
Insurance
Rafting certificate
Basic facilities
Bottled water

What to Bring

Change of clothes
Towel
Insect Repellent
Sun block lotion

What to Wear

Shorts & T-shirt
Swimwear (optional)
Sandals with strap
Goggles (if you plan to wear contact lenses, if not, we provide rubber band for eyeglasses)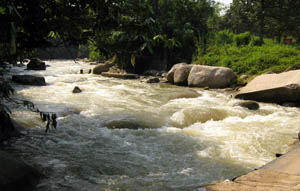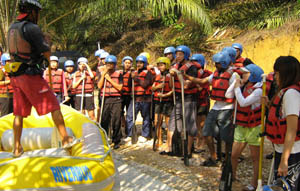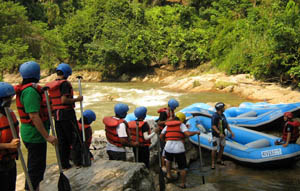 ---
---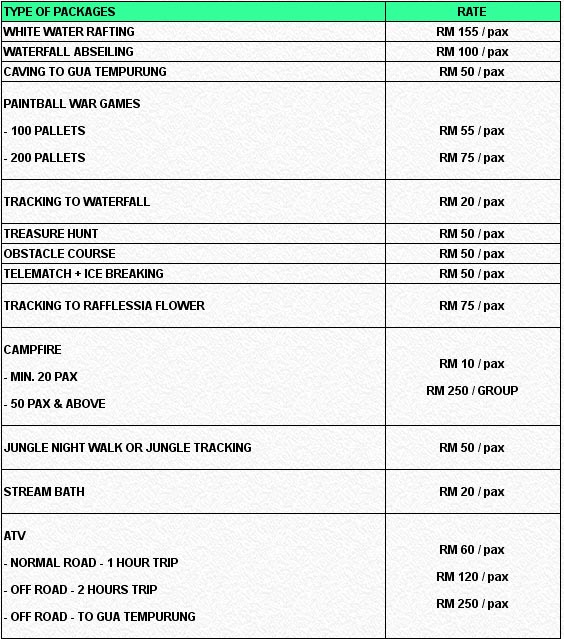 ---