Ipoh Tourism Board Official Website

Seach About The Ipoh Now !!!!

Copyright 2013 www.ipoh-city.com All Rights Reserved.
webmaster@ipoh-city.com

Designed by JJ NETWORK
Usage website states your compliance of our Terms & Conditions and Privacy Policy.
For best view use 1024 x 768 resolution; MSIE v.8 or Firefox 3.5+


---
The Enlightened Heart Tibetan Temple was started in 1976 on a small piece of land about 500 metres remote from the road. In 1979 the present Master moved in and expansion began. It is now a major complex on 12 acres of land, with a 13-story pagoda which was built between 1996 and 2009. The largest Buddhist statue in Ipoh stand grand on the greenish limestone hills.

Enlightened Heart Buddhist Temple, also known as Jingang Jing She by the locals is surrounded by magnificent perimeters of luscious valleys, orchards and limestone hills. More than 200 statues displayed in the temple was a sight to behold. The amalgam of influences rendered the decorations, statues, deities and paintings slightly different from the common Buddhist or Taoist temples.
---

Address :
Off Jalan Ampang (Jalan Ampang Baru 6 in Google Maps)
Tambun, 31400 Ipoh, Perak, Malaysia.

GPS: E101 8 41.4 N4 35 45.4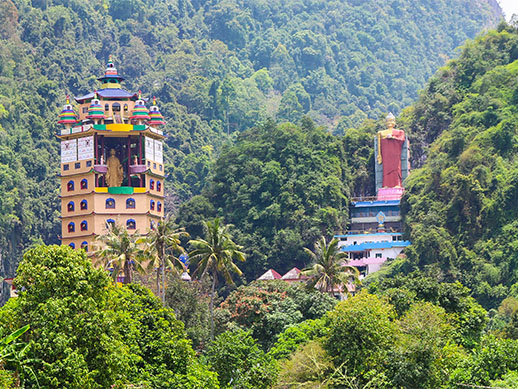 Enlightened Heart Buddhist Temple